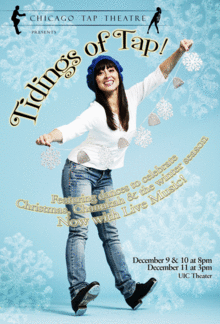 The Fringe offered up some Christmas in September, thanks to the Miscreants' "The Roast of Santa Claus, or: The Miscreants Kill an Hour and Go to Cuernavaca." But now that the holiday season is actually here, perhaps you're looking for a more, er, family friendly holiday show?
Look no further: Chicago Tap Theatre's "Tidings of Tap" promises to be just the ticket!
And by entering promo code FringeTap11 and wearing your Fringe button to the show, you can save $5 on an adult ticket! Click here for tix.
Laura Molzahn of SeeChicagoDance.com wrote, "Never preachy and rarely predictable, 'Tidings of Tap!' doesn't provide the sentimental glow of self-approval that so many other holiday shows do. Nor does it trash the season or the human race for enjoying it. Instead it takes us on a mashed-up tour of holiday cliches, borne on the easy, breezy wings of tap-dancing."
"Tidings" is being performed on the UIC campus, so while you're in the area to see the show, you could easily revisit some of your favorite Pilsen hotspots like
Decolores
,
Honky Tonk
,
Simone's
and the Miscreants' watering hole of choice,
Cuernavaca
.